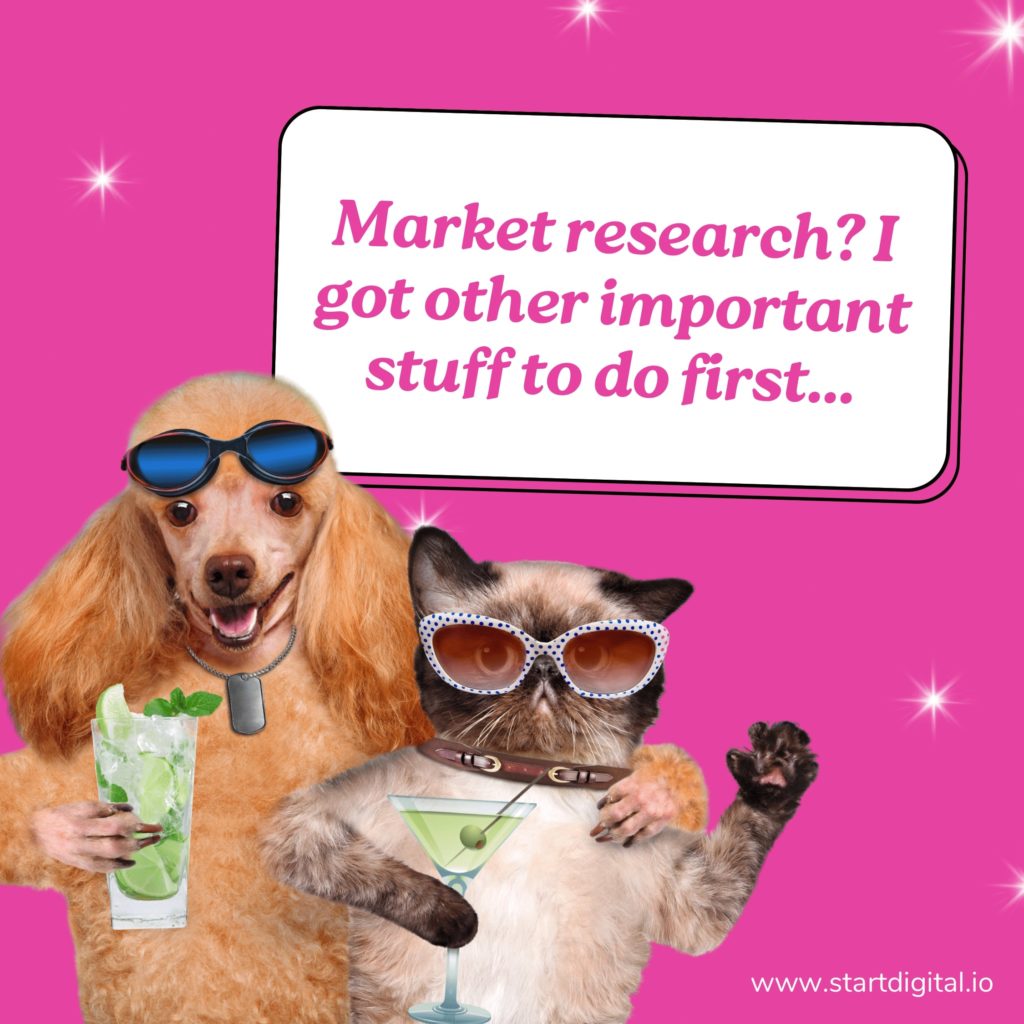 Gut feeling VS strategy
Your digital offer doesn't need a big ass business plan but just following your passion and having your entire strategy relay off your gut feeling won't work. We get it, when you look at other entrepreneurs it may seem like they woke up one day with a great idea and then suddenly success just happened. Or they were passionate about something and all they did to become successful was just to follow their passion…
What you see on your social media feed is just a piece of a long journey that includes yes passion, but also other things like strategy and market research. This usually happens behind the scenes so it's OK if you had no clue 😉
Building a market fit digital offers that sell
This year we started guiding experts and online entrepreneurs in creating competitive digital products at Start Digital aside from building marketing funnels. Our process also includes market research and we learned from our clients that this isn't a thing and actually an important step they simply skip!
Why? They don't think about it? It's boring (we disagree)? It's not needed because they are their ideal client so they know it all already. A sexy branding and website is a better investment? We take market research very seriously but I'm pretty sure if we offered our guidance through a pre-recorded course people would still skip it. Since we are guiding people 1:1 there is no way to skip this step – never.
We are sharing this with you to show you why it's part of the digital product creation process, why it's so crucial and when you know why it's so powerful you will do research before creating. So here are some of the results my clients experienced:
A better understanding of their ideal clients and people they want to stay away from
Getting to know the audience inside out including their needs, pain points and desires
Ideas to position their product and themselves in a competitive and authentic way
Building better products by identifying features that resonate most with their audience
More authentic and compelling marketing messages emphasizing the value of their solution
Feeling much more confident because of the extra insights and golden nuggets they gained
So when you have a new idea, don't skip the market research and empower yourself with golden nuggets! 💛
Want to learn more about how to build digital products with your expertise, skills or ideas? We love chatting about this and book a free connect call with Nienke Nina to learn more and get a glimpse into our step-by-step process.