Want to get more out of what you know and create a digital product with your expertise?
Transform your expertise into a digital product and sell it online from anywhere.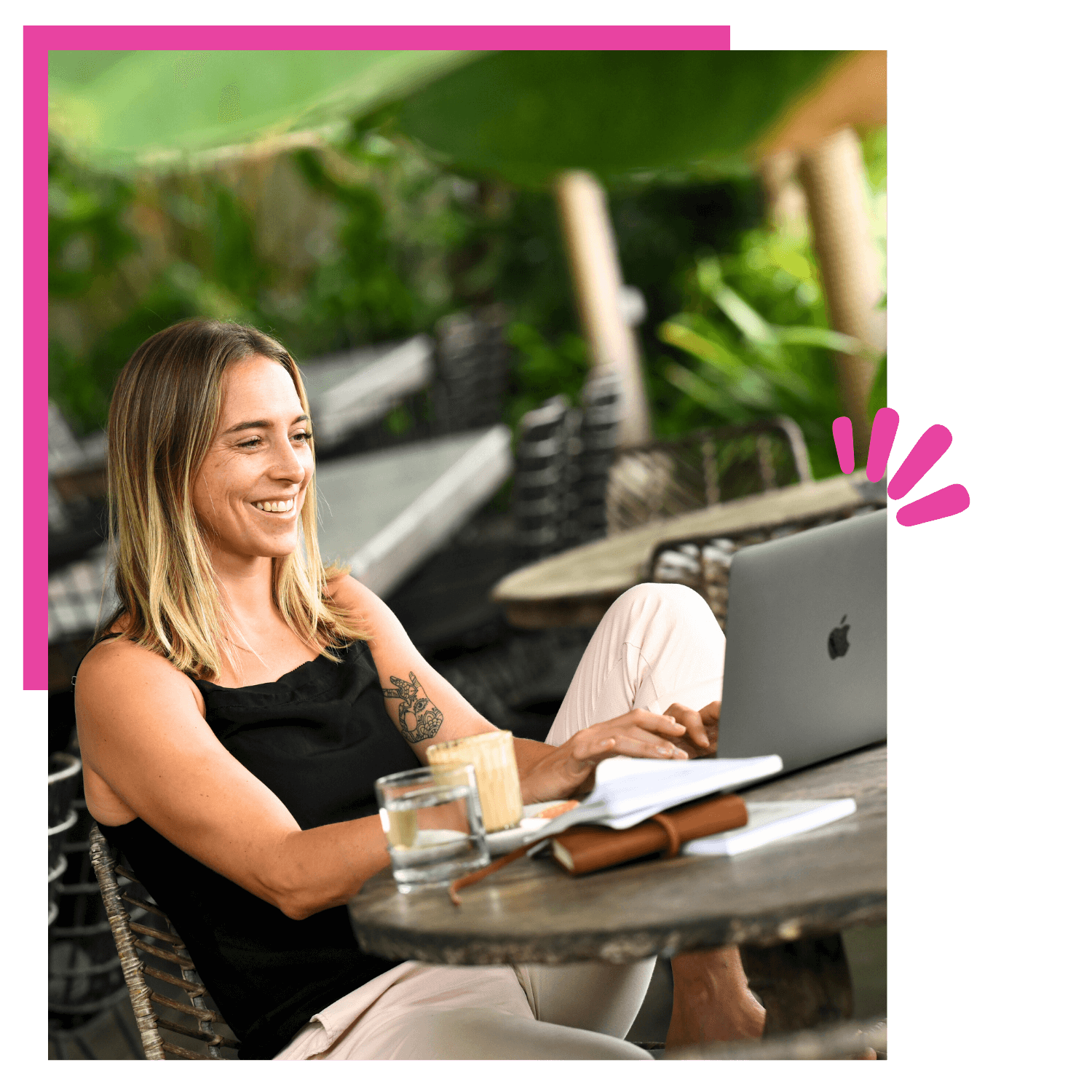 This is for you if you
✦ Are unsure about how to create a competitive offer from scratch and are lost where to start.
✦ Have no clue where and how to sell your product online without taking high financial risks.
✦ Feel overwhelmed and scared to make wrong decisions and it's never going to work out. 
✦ Get easily distracted by other must-do's and can't see the next steps and what to prioritize.
✦ Are afraid to feel lonely and loose motivation during the creation process.
✦ Ready to make a change but are overwhelmed by the workload and aren't sure how to make it fit in your already busy enough current day-to-day life.
Transform your expertise into a digital product and sell it online from anywhere.
Create a digital product that sells without feeling overwhelmed.
Don't to it alone and get guidance from marketing mentor to

get results faster. 
Marketing Mentoring 1:1
✦ VIP Growth Digital Product Ideation 1h Consultation.
✦ Tailored Digital Product Creation Roadmap in Notion.
✦ 5 Marketing Growth sessions to boost your knowledge
✦ Marketing and tech support to make smarter choices
✦ Customizable ready-to-use templates, checklists and more golden nuggets
✦ Weekly collaboration sessions to answer questions, brainstorm ideas and celebrate your wins
✦ On-going support in Notion & WhatsApp so you don't feel lonely and stay motivated
•••••••
Collaboration: Min 3 months
Fully remote
Stay Inspired, Motivated & Focused
Build your digital product with expert Nienke Nina on your side to get it done much faster and easier.
Creative buddy.
Bounce off ideas, learn new things and come up with new content ideas to attract quality leads.
Marketing cheerleader.
Get support with developing and implementing marketing strategies and show up consistently without getting overwhelmed
Accountability partner.
Get stuff done and have someone to keep your accountable so you keep moving forward.
Tech Support.
Get support with finding the right tools to achieve your business goals and save your time and energy for the work you love doing.
From ideation to creation
1. Book a connect call
Let's first get to know each other and chat about your idea and goals to see if we are a good match.
2. Choose your package.
Together we decide the duration of the program to make sure it fits in your current day-to-day life. 
3. Collaboration details
We love transparency and will create and sign our collaboration contract so we know what to expect.
4. Onboarding session.
Our first session is the onboarding where officially kickstart the program and go through the process.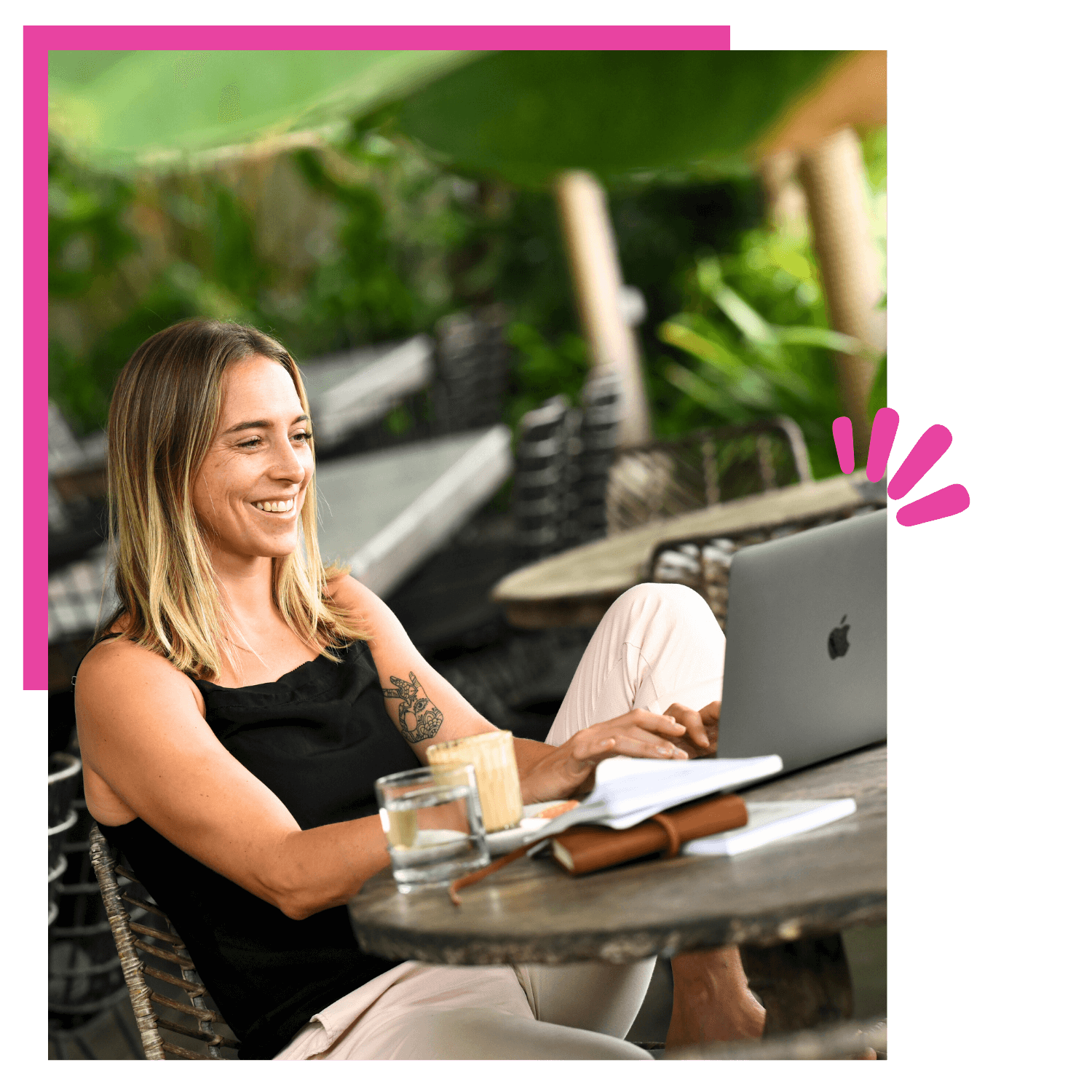 Michelle's transformation
"I've seen a massive difference in what I feel capable of doing and the number of followers, I've got the number of people saying they love my new content or asking me what's changed. The quality of the leads of the people I'm getting now are more in line with my target audience." – Michelle, Remote Rebellion.
I have never created a digital product, is this right for me?
Absolutely! Your time and energy (ours too) are sacred and that's why we are there to guide and support you along this journey through collaborative marketing mentoring. We use a proven process that walks you through all the steps from idea to digital product creation and how to promote it.
My current product/offer isn't selling, is the marketing mentoring right for me?
Our step-by-step process is designed to create market-fit offers and is a great tool to revamp your current offer and marketing strategy. Revamping your offer can be challenging and during the marketing mentoring live sessions, you get a new fresh perspective to create a winning offer that sells.
How do you track if it's successful?
The marketing mentoring will not only teach you how to create a winning digital product/offer but also boost your confidence. Our collaboration contract will state all services and expectations and during the onboarding, we will go deeper into your personal goals. 
Your energy and time matter to us.
We help people who want to leverage their knowledge with creating digital products through 1:1 marketing mentoring.
Book your free discovery call below.